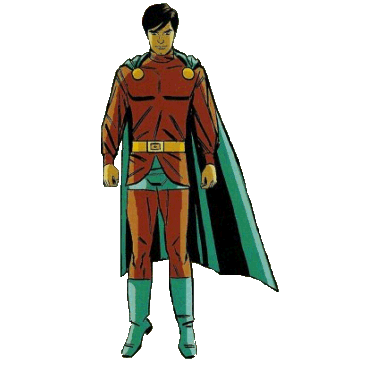 Alter Ego: Lar Gand
Known Relatives: None
Homeworld: Daxam
Height: 6' 2"
Weight: 200 lbs.
Eyes: Light Blue
Hair: Black
First Appearance: (historical) SUPERBOY #89 [June 1961]; (current) SUPERGIRL AND THE LEGION OF SUPER-HEROES #23 [December 2006]


History:

Mon-El is from Daxam, the second planet in orbit around the sun Valor. He was a seeker who studied forbidden lore. Lar discovered a message from Krypton which told of a rocket involving the "Son of Krypton" that was bound for Earth. He then discovered a functioning spacecraft and journeyed for three weeks until a sunspot storm ruptured his fuel cells and he crashed on the very spot into which Superman landed in Kansas on Earth.
The journey cost him his memory so when he was discovered by a young Clark Kent, he spoke only the words "Son of Jor-El" in Kryptonese. Thinking that they were long lost brothers from Krypton, Clark dubbed the stranger Mon-El and for a time they were the best of friends. However, Mon-El kept speaking another language in his sleep. So to prove whether or not he was a true Kryptonian, Clark decided to expose him to kryptonite. Unfortunately, it was the lead box which affected his friend and restored his memory. The lead poisoning was also fatal and to save Lar's life Clark was forced to exile him into the Phantom Zone.
Which was where Mon-El remained for a thousand years until the Legionnaires of the 31st century freed him. Brainiac 5 quickly devised a cure for his lead poisoning.

Powers & Weapons:
Under the Sun's solar radiation, Mon-EL's daxamite physique absorbs energy and can fly, has superstrength, superspeed, invulnerability, acute hearing, and a range of vision including emitting X-Rays and heat.